Pumping out a septic tank is a necessary, but professional service that is often overlooked by owners. Yet, the last thing any home or business owner wants is a septic tank that overflows onto property, or backs up into toilets and sinks. This is why septic tank pumping is important. Bynum & Sons Plumbing, Inc. provides residential and commercial septic services to the Alpharetta area. Our licensed technicians will inspect your septic tank, and assess the pipes and overall mechanisms of your system.
Proper septic tank pumping and maintenance ensures that your system will last for many years. By pumping your tank every 2-4 years, the possibility of any sludge reaching the drain field is greatly reduced. You can count on Bynum & Sons Plumbing, Inc. for trusted and affordable septic services. Family owned since 1997, we give a variety of high quality septic services to clients in a professional manner.
When it comes to septic system cleaning, a little effort on a regular basis can save a lot of money and greatly prolong the life of your septic system. Bynum & Sons Plumbing, Inc. will help clients in the Alpharetta area establish septic cleaning schedules, ensuring their septic systems are working efficiently.
Equipped with technology to measure the thickness of solid wastewater and scum, our technicians understand the biological balance within the septic system. Too much water or excessive amounts of cleaners or chemicals requires professional cleaning. Foul odor, slow draining, or drains that back up are reasons to call a septic professional.
When preparing to buy a home or commercial space, many focus solely on the property's appearance without considering the quality of the systems that they cannot see.
With honest and dependable services, Bynum & Sons Plumbing, Inc. performs thorough septic inspections to the Alpharetta area, testing for septic backup, improper functioning of the drain field, or inadequate operating systems. For your peace of mind, our technicians will make sure that the septic system on your property has been cared for and properly maintained before you make your purchase.
If you are currently in need of septic services, you can be sure that our Alpharetta septic experts are ready to help you. We offer free estimates before we begin any work, and will serve you with respect. Contact us today.
Bynum & Sons Plumbing, Inc.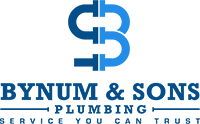 5
Stars – Based on
87
User Reviews
An average homeowner doesn't understand all septic terms because they don't have to. It's easier to call someone and let them do their thing. But ignorance is dangerous. You don't have to absorb every bit