Designed to provide years of efficient plumbing for your home or business, septic systems require pumping every 3-5 years. This is a vital step in keeping your system functioning effectively. Septic tank pumping is one of the many septic services provided by Bynum & Sons Plumbing, Inc. to residents and business owners in Centerville.
Proper septic tank pumping necessitates knowledge about wastewater (septage) and how it is broken down and drained from your tank. Our technicians are fully licensed and experts when it comes to the design of septic tanks and when they should be pumped. Generally, when the bottom sludge layer is within 6 inches of the outlet pipe, professional services are needed. Because waste materials can be hazardous, you'll need a trusted technician to handle your septic tank pumping. Bynum & Sons Plumbing, Inc. is known for reliable, professional, and courteous service. If you are in Centerville, call us for your septic service today.
Over time, septic systems accumulate heavy sludge and scum that can overwhelm your system, causing it to leak or back up. This is why septic system cleaning is imperative in order to maintain proper septic function.
Bynum & Sons Plumbing, Inc. is a family owned plumbing company serving Centerville area residents and business owners. We encourage you not to forego having your septic system cleaned. Regular cleaning schedules provide our technicians with important information about your system, and how to avoid steep repair costs. Improper drainage or leakage can also put your family at risk, and result in groundwater contamination.
Give our Centerville technicians a call today to schedule your septic system cleaning. A little effort goes a long way in keeping your septic system healthy.
Septic inspections require measuring the sludge and scum levels, assessing the system's pipes, mechanisms, and the drain field to make sure that wastewater is being percolated properly.
If you are looking to purchase a home or commercial space, a full septic inspection is necessary to avoid liability issues and costly repairs. Bynum & Sons Plumbing, Inc. is fully licensed, dependable, and proudly offers full septic inspections to residents and business owners in the Centerville area. It is simply too risky to skip this step when it comes to your septic system. Contact us today to schedule your service.
Bynum & Sons Plumbing, Inc.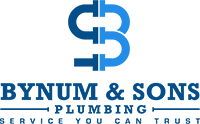 5
Stars – Based on
87
User Reviews
An average homeowner doesn't understand all septic terms because they don't have to. It's easier to call someone and let them do their thing. But ignorance is dangerous. You don't have to absorb every bit