How long has it been since your septic tank was pumped? In order for your septic system to function at optimal efficiency, you need to schedule a professional septic pumping. This should be done every 3 to 5 years depending on your specific tank size and the amount of wastewater coming from your home or business. At Bynum & Sons Plumbing, Inc., we proudly serve the greater Commerce area with excellence in septic services. Our commitment to customer satisfaction is supported by our adherence to honest and reliable service at all times. To get a free quote on your septic tank pumping, call us today.
In general, a septic tank needs to be pumped every 3 to 5 years. The maintenance schedule for your specific system depends on factors such as the size of your tank, number of household occupants and the amount of solids in your wastewater. You can trust that our team of licensed technicians is knowledgeable and skilled when it comes to pumping the sludge and scum out of your septic tank.
Septic system cleaning can ensure your family's environment is safe and your plumbing costs are minimized. Over time, sludge and scum build up in your septic tank. Left unchecked, this can create an unhealthy balance in your septic tank and lead to groundwater contamination or a backup in your home. To avoid disruptive septic problems, a septic cleaning or septic pumping is needed. At Bynum & Sons Plumbing, Inc., our technicians can eliminate septic wastes in a proper and environmentally-friendly way. We are known for our professionalism and respect when it comes to servicing your septic tank in Commerce.
Septic inspections are performed for a variety of reasons, especially if you are buying a new home. A professional inspection of the septic tank components and drain field can ensure the system is operating efficiently and safely before you make a home purchase. During a septic inspection from Bynum & Sons Plumbing, Inc., we will carefully measure the wastewater levels in your tank as well as check for evidence of leakage or erosion. If sludge and scum levels are high, we may recommend a septic tank pumping and cleaning to restore the health of your tank. Rest assured that our technicians are fully licensed and use high-tech camera technology so that disruption to your property is kept at a minimum.
If you would like to schedule a septic inspection or septic tank pumping for your home or business in Commerce, please contact Bynum & Sons Plumbing, Inc. today. We offer free estimates and affordable rates on a full menu of septic services.
Bynum & Sons Plumbing, Inc.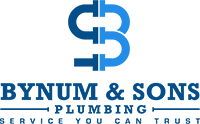 5
Stars – Based on
87
User Reviews
An average homeowner doesn't understand all septic terms because they don't have to. It's easier to call someone and let them do their thing. But ignorance is dangerous. You don't have to absorb every bit