If you live in a home with a septic system, then you know how important a drain field is.
Keeping your drain field functioning properly is vital to the health of your entire septic system and can result in fewer septic tank issues and repairs.
Bynum & Sons Plumbing, Inc. is here to take care of all your septic and drain field needs, so if you have any questions or need a professional service, don't hesitate to give us a call!
What Is a Drain Field Exactly?
A drain field works with a septic system and it is the place where the water from the septic tank flows to be absorbed into the ground.
Drain fields are made of perforated pipes and are buried in trenches filled with gravel.
A typical drain field pipe is four inches in diameter and is buried in a trench that is four to six feet deep and two feet wide.
Gravel fills the bottom two to three feet of the trench and then a layer of dirt covers the gravel.
The water from the septic tank is slowly absorbed and filtered by the ground in the drain field.
In areas of the country such as Georgia, where the ground is hard clay, the ground is much slower to absorb the water. Drain fields in these areas must be much larger.
Now that we've covered some of the basics, take a look at the top-quality drain field services that we can provide you with!
The professionals at Bynum & Sons Plumbing, Inc. septic service are experts in drain field repair and installation. We have been installing drain fields for clients in and around Atlanta since 1997.
Due to the importance of a drain field to your septic system, it should only be installed by an experienced, licensed plumber.
At Bynum & Sons Plumbing, Inc., we have a highly experienced and skilled team for this task and we can expertly deal with any type of drain field project that comes our way.
No matter the size and the scope of your property or the drain field that you require, we will install it promptly and efficiently as well as make sure that everything is in perfect functioning order before we leave.
The same goes for making repairs to your existing drain field or drain line repairs – you will get only the highest quality repair services from Bynum & Sons Plumbing, Inc.!
Whenever you think you are having issues with your drain field, just give us a call. Our team will be there promptly to determine what the issue is.
Our work is always very thorough, which means that wherever the problem is hiding, we will find it!
We will determine the source of the problem on your drain field and provide you with the best solutions for its repair.
With the help of high-tech equipment, innovative methods, and our dedicated crew of technicians, your drain field will be back to functioning properly in no time!
If you need a drain field to be installed or if you are experiencing problems with your current drain field, we can help!
Our plumbers are licensed and well-trained in drain field repair and installation and will help you anytime – just give us a call!
5-Year Warranty on Field Line Replacements & Installations
We are a family-owned business and have spent over twelve years developing an excellent reputation in the plumbing field. We care about our clients and depend on client referrals to maintain and grow our business. And for your peace of mind, we can offer you a 5-year warranty on all our field line replacements and installations. Don't hesitate to contact us today to schedule an appointment with one of our drain field experts. We look forward to working with you!
Drain Field Repair and Installation Duluth GA
Our Duluth GA drain field installation and repair services are unmatched! Our local Duluth team makes sure that every customer receives the highest quality of service and the best end result.
We install new drain fields on all types of properties and if you are experiencing issues with your current drain field, we will repair it quickly and efficiently.
As a homeowner, it is important to take notice of slow draining speed and similar issues because they may lead to more serious ones, such as the accumulation of sludge in your draining pipes. Over time, this may cause blockage of the entire drain system, prompting a drain field overhaul. 
The anomalies you might experience include leaks and unpleasant smells. Our highly skilled professionals have accumulated tons of experience in the Duluth GA drain field repair and installation projects, providing long-lasting solutions to complex issues, with the utmost dedication.
If you are looking for the best drain field repair in Duluth GA, Bynum & Sons are at your disposal. We will do a thorough assessment to discover the cause, type, and extent of the blockage, and offer the best possible low-cost solutions to rectify the issue.
Drain Field Repair and Installation Lilburn GA
Our team of technicians in Lilburn GA is at your beck and call for any drain field repair or installation services that you may need.
Apart from installing a brand-new, state-of-the-art drain field that is integral to the health of your septic system, we will also repair any issues and make sure your Lilburn drain field is functioning properly.
Therefore, if you are looking for a professional Lilburn GA drain field repair company, look no further than Bynum & Sons Plumbing. It is of utmost importance to seek professional help if you need to repair your drain field system. 
We will make sure to get your drain field in top functioning condition and prevent more serious and devastating issues such as flooded floors and water damages inside your property. After detailed assessments and depending on the scope of the issue, we will conduct a full drain field replacement or a Lilburn GA drain field repair.
Don't hesitate to get in touch with us at Bynum & Sons Plumbing for all your drain field needs in Lilburn GA as soon as you notice any issues.
Drain Field Repair and Installation Suwanee GA
Without a properly functioning drain field, you may experience different issues on your property in Suwanee GA, such as uncomfortable odors and messy cleanups. And it's not only the bad smell that may cause issues. Clogged drains may even lead to stagnant water, which is a great habitat for all types of bacteria.
But with our Suwanee drain field repair and installation services and a dedicated team of technicians on the job, we will make sure you have a high-quality drain field and a healthy septic system.
At Bynum & Sons Plumbing, we aim to provide the best drain repair services in Suwanee GA. Our only goal is to get your drain field system into the flawless functioning condition it once had. Therefore, if you're looking for the best drain field services in Suwanee GA, contact us and we will handle all drain repairs and installations for you and also provide you with any drain field-related advice.
Bynum & Sons Plumbing, Inc.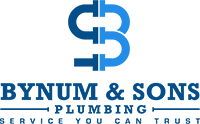 5
Stars – Based on
87
User Reviews