Gwinnett County Drain Line Repairs
A clogged or slow toilet is a fairly common event and can usually be resolved with the use of a plunger. However, if all the drains in your home are slow and the use of a plunger does not work on your slow toilet, it is time to call in a professional plumber. The problem may be with your drain line.
A drain line runs from a home to a home's septic or sewer system. A blockage in the drain line can cause slow drainage at all of the home's plumbing fixtures, such as the toilets and the disposal. When there is a problem with the drain line, the most dramatic blockage will be seen in the toilet because toilets send a large and sudden discharge volume of water and waste to the sewer or septic line.
Once a drain line problem is correctly diagnosed, the decision must be made to either repair or replace the drain line. Since this is a big decision for any homeowner, you need a plumber you can trust – call Bynum & Sons Plumbing, Inc..
A drain field works with a septic system and it is the place where the water from the septic tank flows to be absorbed into the ground.
Drain fields are made of perforated pipes and are buried in trenches filled with gravel.
A typical drain field pipe is four inches in diameter and is buried in a trench that is four to six feet deep and two feet wide.
Gravel fills the bottom two to three feet of the trench and then a layer of dirt covers the gravel.
The water from the septic tank is slowly absorbed and filtered by the ground in the drain field.
In areas of the country such as Georgia, where the ground is hard clay, the ground is much slower to absorb the water. Drain fields in these areas must be much larger.
Now that we've covered some of the basics, take a look at the top-quality drain field services that we can provide you with!
Bynum & Sons Plumbing, Inc. has been helping clients in and around Atlanta to diagnose and treat drain line problems since 1997. We are experts in repairing and replacing drain lines. We can also help with drain field repair and installation. You can trust us to give you an accurate estimate before beginning any work. Once work has begun, we will treat both you and your home or commercial building with respect.
We understand that any interruption in plumbing services in your home or place of work is a major inconvenience. We work hard to make this process as easy as possible for our clients.
If you are currently experiencing slow drains or toilets in your home, please contact our Gwinnett County Drain Line Repair Company at Bynum & Sons Plumbing, Inc. today. We will schedule an appointment for one of our licensed professionals to come to your home at your convenience. We look forward to working with you.
Bynum & Sons Plumbing, Inc.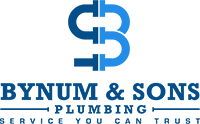 5
Stars – Based on
87
User Reviews