Periodically, the sludge and scum in your septic tank will need to be pumped out. When materials in the wastewater of your tank reach levels within 12 inches of the outlet pipe, septic tank pumping is necessary. Pumping your tank will restore your system to healthy functioning, as well as prevent contamination of your groundwater. Yet, it's important to know that septic tank pumping is a professional service, and is recommended every 3-5 years.
As one of many services offered by Bynum & Sons Plumbing, Inc., septic tank pumping is important to Grayson area residents and business owners. Not only will this ensure that your system is healthy, it can increase the value of your home or business. Our family owned company consists of trained technicians who are ready to serve you with honest, dependable septic services.
In regards to septic tank pumping, we know that this is a vital step in maintaining the life of your septic tank. It is also the best choice for the safety of your family and property. Call our Grayson area technicians today for a free estimate and prompt, courteous service.
Removing septic waste through septic system cleaning is a critical step in caring for your septic system, as it extends the life of the septic field. Depending on the size and usage of your tank, your cleaning schedule may differ from another household or business. Also, if you have a garbage disposal and use it often, you may need your septic system to be cleaned more frequently. Either way, it's best to contact a septic professional for your cleaning needs. Bynum & Sons Plumbing, Inc. will assess the current condition of your system, and determine which cleaning services are needed. Our technicians understand the dynamics of septic tanks, and how heavy materials can build up over time.
When it comes to septic system cleaning, a little effort goes a long way. Our trained technicians can easily help you establish regular cleaning schedules so that you can avoid costly repairs for your septic system. Do you need septic cleaning services in the Grayson area? Our technicians are on stand by, and ready to serve you today.
Often, when individuals are thinking of purchasing a home or commercial space, they will not consider the quality of systems that they cannot see. Yet, septic inspections are very important. For liability reasons and to avoid heavy costs from inadequate systems, it's absolutely necessary to contact a septic professional for a safe, thorough inspection.
Bynum & Sons Plumbing, Inc. proudly performs septic inspections for Grayson area residents and business owners. We understand that inspections increase the value of your home and business, and they will give you confidence and peace of mind as you move forward with your purchase.
For visual and full septic inspections, contact our office today. We are happy to serve you with fair, honest estimates.
Bynum & Sons Plumbing, Inc.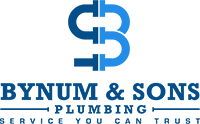 5
Stars – Based on
87
User Reviews
An average homeowner doesn't understand all septic terms because they don't have to. It's easier to call someone and let them do their thing. But ignorance is dangerous. You don't have to absorb every bit