Are you experiencing a foul odor coming from your drains or worse yet, do you have sewage backing up in your bath tub? If you are experiencing a septic emergency, call Bynum & Sons Plumbing, Inc. for fast and affordable septic pumping in Johns Creek. Bynum & Sons Plumbing, Inc. is here to serve all of your plumbing and septic system needs.
Since 1997, our full service plumbing company has been serving Johns Creek homeowners and business owners with exceptional service at competitive prices. Our licensed and certified septic specialists will handle all aspects of your septic pumping quickly and thoroughly, with as little disruption as possible.
It is important to have your septic tank cleaned every 3 – 5 years, depending on the size of your tank and the use it receives. Each septic system is uniquely different, as are the families that they serve. Our septic specialists can first measure your scum levels and thickness to determine if it is time to have your septic tank cleaned. We offer competitively priced septic services that will help maintain and extend the life your entire septic system.
You can trust the experts at Bynum & Sons Plumbing, Inc. for all of your septic service needs. Call us for camera septic inspections, comprehensive septic tank pumping, drain field and drain line installation and septic tank inspections. In addition to a full slate of septic service, Bynum & Sons Plumbing, Inc. can handle all of your plumbing projects or problems. We do it all from leaky faucet repair to new toilet installations and more. We are proud to live in work in the Johns Creek area; we will work hard to earn your business and your referrals. Bynum & Sons Plumbing, Johns Creeks trusted name for affordable septic service. Contact our Johns Creek Septic Pumping Professionals at Bynum & Sons Plumbing, Inc. today for a free estimate for service.
Bynum & Sons Plumbing, Inc.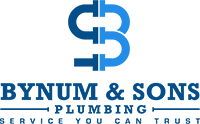 5
Stars – Based on
87
User Reviews
An average homeowner doesn't understand all septic terms because they don't have to. It's easier to call someone and let them do their thing. But ignorance is dangerous. You don't have to absorb every bit