Did you know that septic tank pumping is one of the most important things home or business owners can do to maintain a healthy septic system? Every 3-5 years, a professional septic tank pumping will help prevent hazardous waste damage and costly repairs. Bynum & Sons Plumbing, Inc. has serviced Loganville residents and business owners with complete septic services since 1997.
Our technicians know exactly what to look for when it comes to evaluating your system. If we recommend that your septic tank be pumped, you can be sure that we will provide you with honest service and a fair estimate. Our Loganville technicians are ready to serve you today. Give us a call, and we'll bring life back to your septic system.
How do you properly maintain your septic system? Healthy systems are the result of regular septic system cleanings. As a rule of thumb, Bynum & Sons Plumbing, Inc. suggests having your septic system cleaned every 3-5 years.
Pooling water, foul odors, slow drains, and sewage backup are a few signs that you need a professional septic cleaning. Our technicians are known for thorough and fair assessments of your system. We understand the design of the septic tank and how it works.
If you are in the Loganville area and need septic system cleaning from a trusted professional, call Bynum & Sons Plumbing, Inc. today. We value respectful service with little disruption to your property.
Bynum & Sons Plumbing, Inc. provides visual and full septic inspections to Loganville residents and business owners. Whether you need to schedule an annual inspection for your own peace of mind, or for a real estate closing, we can help. Our technicians are trained and equipped to consider all aspects of your system. Our inspections include the following:
Check the walls of the tank for structural damage
Check lid depth
Assess the drain field and moisture levels
Measure levels of sludge and scum
Inspect positions of baffles
Top quality septic inspections at affordable rates are what set Bynum & Sons apart. Contact us today for a quick response in scheduling your septic inspection.
Bynum & Sons Plumbing, Inc.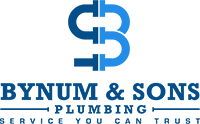 5
Stars – Based on
87
User Reviews
An average homeowner doesn't understand all septic terms because they don't have to. It's easier to call someone and let them do their thing. But ignorance is dangerous. You don't have to absorb every bit