Your septic tank is one of the most sophisticated and important systems in your home. When functioning properly, it can safely and efficiently handle wastewater coming from your home or business. However, it cannot be expected to operate smoothly without a routine septic tank pumping. At Bynum & Sons Plumbing, Inc., we proudly serve the Madison community with affordable and reliable septic tank pumping services.
A professional septic tank pumping is necessary in order to remove the solid sludge and scum from your tank that accumulates over time. If the buildup gets too thick, your septic system can fail, resulting in a costly backup in your home or an unsafe drainfield environment. Bynum & Sons Plumbing, Inc. brings decades of experience in the septic business. We are a family-owned company that is committed to honest and respectful service. If it has been more than 3 to 5 years since your tank was pumped, call our office today. Let our experts restore the health of your septic tank quickly so that you are not facing costly repairs in the future.
Through our excellence in septic cleaning, we can help you extend the life of your plumbing system in Madison. Our licensed technicians understand the careful balance of bacteria that must exist in your tank as well as the dangers involved when scum levels are too high. We provide top quality septic cleaning and pumping services so that you can feel confident about the operation of your septic system. You can trust our experts to work in a timely manner with the highest respect to your property and the environment. In addition, Bynum & Sons Plumbing, Inc. offers competitive rates and complimentary estimates for your convenience.
Evaluating the condition of a septic tank is a job for a professional. At Bynum & Sons Plumbing, Inc., we use advanced technology and proven techniques when performing septic inspections. We have conducted inspections for potential homebuyers as well as for business owners who want to know if it is time to have their septic tank pumped. If your septic tank requires attention, you can trust us to handle it with ease. Our septic experts offer a full range of septic services, from septic installations to septic repairs and everything in between.
Are you confident that your septic tank is in top working order? If not, contact Bynum & Sons Plumbing, Inc. today to schedule your septic inspection or septic tank pumping in Madison. We look forward to serving you!
Bynum & Sons Plumbing, Inc.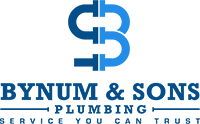 5
Stars – Based on
87
User Reviews
An average homeowner doesn't understand all septic terms because they don't have to. It's easier to call someone and let them do their thing. But ignorance is dangerous. You don't have to absorb every bit