If you have a septic tank in your home or business, it needs routine pumping. Bynum & Sons Plumbing, Inc. is proud to offer Norcross residents a full range of septic services at an affordable rate. Our family owned plumbing and septic services company is known for serving clients with the expertise they need and the respect they deserve. Whether your septic tank needs routine maintenance, emergency cleaning and repair or professional inspection, you can trust Bynum & Sons Plumbing, Inc. to handle your concerns.
Is it time to have your septic tank pumped? The answer depends on the size of your tank and number of occupants in your household. Most septic tanks, however, need to be pumped every 3 to 5 years. Neglecting to adhere to your septic tank maintenance needs could result in costly damage and an unsafe environment for your family.
Emergency Septic Tank Cleaning
In all septic tanks, there are waste solids such as sand, grit, bits of plastic and other non-organic materials. Since no enzyme or bacteria can digest these wastes, they must be physically pumped out of the septic tank periodically. Our professionals use camera technology to measure the thickness of your tank's solid wastewater and scum. We can ensure your tank is given new life with a thorough septic cleaning.
If your septic tank is showing signs of backflow in your home or drain field, you need our emergency septic tank cleaning before further damage occurs. You can trust that our technicians are always on time, honest and knowledgeable at what they do. We carry out the most effective septic tank cleaning methods available while minimizing disruption to your home environment.
If you are thinking of purchasing a new home, you can trust us to provide you with a thorough inspection of the home's septic system prior to making the purchase. We will even work with the closing attorney for payment from escrow and provide certified inspection letters when needed. Our septic tank inspections include the following:
Check the side walls and the bottom of the tank for cracks and/or structural damage
Check lid depth and condition
Evaluate drain field and ground condition
Measure top layer of floatables and solids on bottom of tank
Inspect inlet and outlet baffle
Bynum & Sons Plumbing, Inc. always offers septic cleaning and inspections at competitive prices and with honest, professional service every time. Contact Bynum Plumbing, Inc. today to schedule a free estimate on your septic tank pumping. Your family deserves the safest and most efficient plumbing possible.
Bynum & Sons Plumbing, Inc.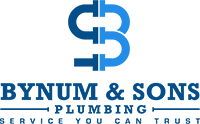 5
Stars – Based on
87
User Reviews
An average homeowner doesn't understand all septic terms because they don't have to. It's easier to call someone and let them do their thing. But ignorance is dangerous. You don't have to absorb every bit