Have you lived in your home for a number of years without tending to your septic system? If it has been more than 3 years since your last septic system pumping, it's time to call Bynum & Sons Plumbing, Inc. Bynum Plumbing is a full service plumbing company offering comprehensive septic services in Sandy Springs including septic pumping, septic tank cleaning, camera inspections, drain field repairs, drain field installation and more. You can count on our licensed and certified septic specialists to get the job done right the first time.
You can extend the life of your septic system by calling Bynum Plumbing to schedule a septic pumping appointment. We are happy to provide a free estimate for service.
Let our team of experts determine if it is time for your septic tank cleaning. We will accurately check the scum levels and scum thickness of your septic system. We put our customers' needs first and treat every customer with honesty and integrity.
For expert Sandy Springs septic tank cleaning trust the septic specialists at Bynum & Sons Plumbing, Inc. Regularly scheduled septic tank cleanings are the best way to preserve your septic system and avoid costly septic emergencies. Even the healthiest septic tanks need to be pumped and cleaned every few years. Certain solid matter, such as non organic materials like sand, grit and plastic will not break down and decompose naturally. This build up of non organic materials must be pumped out of your system to prevent build up and blockage.
You can trust Bynum & Sons Plumbing, Inc. for fast and affordable septic service. Since 1997, we have dedicated our plumbing business to serving our customers with exceptional care. Contact our Sandy Springs Septic Pumping Professionals today for a free estimate.
Bynum & Sons Plumbing, Inc.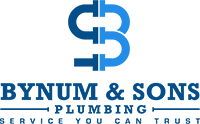 5
Stars – Based on
87
User Reviews
An average homeowner doesn't understand all septic terms because they don't have to. It's easier to call someone and let them do their thing. But ignorance is dangerous. You don't have to absorb every bit