Septic System Remediation
Is your septic system failing? You may not have to disturb your landscape or deplete your savings to fix it. Bynum & Sons Plumbing, Inc. proudly offers the industry's most advanced solutions for septic tank repair. We use the Aquaworx Remediator to restore optimal health and function to your failing septic tank. Septic remediation is performed when there is an excessive growth of bio-mat, or biological material that fills the soil and inhibits the soil from properly absorbing the effluent (wastewater) from the tank. With septic system remediation, homeowners can avoid the expense and landscape trauma of replacing their entire system and digging up the drainfield.
Bynum & Sons Plumbing, Inc. is a family owned, full service septic company. We are licensed and insured, and have been servicing and installing septic systems for clients in and around Atlanta since 1997. Our team is proud to offer such an effective and cost-saving repair solution to septic tank owners.
Solve Bio-Mat Problems Without Replacing Your Drain Field
Remediation using Aquaworx can save your septic system if it is failing due to bio-mat excessive growth. Your septic tank is an intricate system that relies on both biological and mechanical processes for smooth operation. If an overgrowth of bio-mat develops in your tank, as a negative bi-product of anaerobic bacterial action, it can cause your drainfield to be sluggish and unable to properly absorb the effluent that is coming from your tank. At this point, your septic system is failing due to biological clogging.
With the easy installation of an Aquaworx Remediator directly into your existing septic tank, your system can be restored quickly, affordably and conservatively. The remediator unit works by producing high levels of oxygen to promote the growth of more efficient aerobic bacteria in your septic tank. The presence of healthy oxygenated bacteria in your septic tank will then work to dissolve existing buildup of bio-mat and reverse the clogging process within your drain field. Most customers notice results in as little as two weeks. Aquaworx Remediator requires minimal maintenance and it is a long-term solution with a high return on your investment.
We Can Repair Septic Field Problems With Minimal Digging
Perhaps the most highlighted advantage of septic system remediation is that it does not require any digging or landscape damage to install or maintain. In a matter of weeks, the Aquaworx unit can repair your septic system operation and eliminate the common problems that are associated with a clogged drainfield, such as wet areas and foul odors.
Contact our office
 today today to learn how Aquaworx Septic System Remediation can rejuvenate your system without disrupting your property or draining your savings.
Bynum & Sons Plumbing, Inc.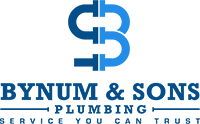 5
Stars – Based on
87
User Reviews