Your septic tank is one of the most important systems in your home. Are you maintaining it properly? Bynum & Sons Plumbing, Inc. is your leading choice in Suwanee for septic tank pumping and inspections. Our team of licensed and insured technicians knows exactly what it takes to keep your septic system running smoothly and efficiently. At Bynum & Sons Plumbing, Inc., we believe in delivering exceptional customer service at all times. 
You can trust that regardless of your septic needs, we will offer affordable and upfront pricing. If you are uncertain of the health of your septic tank, call us today and let our professionals determine your pumping needs.
Hiring your Suwanee GA experienced specialists to pump out your septic tank is the surest way to get rid of all the solid sludge that tends to accumulate at the bottom of the tank, as well as the grease accumulating as scum hovering at the top. 
Removing your septic waste by pumping it out of the septic tank is a vital step and one of the most important aspects of the septic tank services. Pumping out your septic tank in a timely manner will also prolong the life of your septic field. 
Bynum & Sons Plumbing, Inc. is your #1 local septic service in Suwanee GA and our top goal is keeping your septic system running smoothly and efficiently. We are at your disposal at any time of the day!
Emergency Septic Tank Cleaning
Give your family the safe environment they deserve by letting our septic experts clean your tank and remove the excessive buildup of solid waste that happens naturally over time. If you neglect to tend to your septic maintenance needs, you can face a costly and disruptive septic backup. If you notice signs of standing water in near your drain field or a foul odor coming from your drains inside the house, you need to strongly consider a emergency septic tank cleaning to restore health to your plumbing system. Accumulation of solid sludge such as sand, grit, bits of plastic and other non-organic material can quickly compromise your septic tank performance.
Bynum & Sons Plumbing, Inc. uses the latest, most effective cleaning methods and high tech equipment to get the job done right. You will find that we always work in a timely manner with careful consideration to your home or business environment.
How Often Should You Pump Out Your Septic Tank?
Now, this is a question many Suwanee GA homeowners may wonder about. There are several factors that come into play here. The most important ones are the size of your tank, the size of your family, and how much of your wastewater is solid waste. 
When it comes to your family and household, the number of people dumping wastewater down the drain plays a big role in how often your septic tank should be pumped. As does your garbage disposal. A family with a garbage disposal tends to dump up to 50% more solid waste down the drain, which, in turn, means that their septic tank needs to be pumped twice as often.
When it comes to solid waste accumulation, in most Suwanee GA septic tanks, the waste solids commonly consist of sand, grit, bits of plastic, and different non-organic materials. Neither enzyme nor bacteria can digest this unwanted waste, which means that on occasion, it must be physically pumped out of the septic tank. 
And in order to determine whether your septic tank requires pumping, you'll need to measure the tank scum and thickness. Since this can be dangerous, it is not something any Suwanee GA homeowner should do by themselves. Instead, call your trusted professionals at Bynum & Sons for a 24-hour pumping service that works entirely around your schedule!
A professional septic tank inspection is required when buying or selling a new home. We are happy to provide certified inspection letters to our customers and we also routinely work with real estate closing attorneys for payment from escrow. You can count on a thorough inspection of all components of your septic tank. We use digital camera technology to carefully measure scum levels in your tank and inspect your tank walls for structural damage. We also check the condition of your inlet and outlet baffles, lid and drain field area.
Contact Bynum & Sons Plumbing, Inc. today to schedule your septic tank pumping. Our company is built upon excellent referrals from a legacy of satisfied customers. When your septic tank needs attention, you can trust Bynum & Sons Plumbing, Inc. for top quality workmanship and fair pricing every time.
Every single one of our specialists is carefully vetted so that our Suwanee GA homeowners can feel comfortable having them inside their homes. We have over 20 years of experience in this industry and we can proudly say that no septic and plumbing project is ever beyond our expertise. 
Our primary goal has always been to ensure that all of our residents receive a superior septic service from the best possible crew!
Bynum & Sons Plumbing, Inc.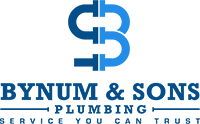 5
Stars – Based on
87
User Reviews
An average homeowner doesn't understand all septic terms because they don't have to. It's easier to call someone and let them do their thing. But ignorance is dangerous. You don't have to absorb every bit