When you need fast, professional drain cleaning and repair by a plumber you can trust, call Bynum & Sons Plumbing, Inc.!
We are your local plumbers with a reputation for top-quality plumbing services at rates you can afford.
Family owned and operated, Bynum & Sons Plumbing has been clearing and repairing clogged drains for homeowners and businesses in the Atlanta metropolitan area since 1997.
Top Plumbers at Your Service
From clogged sinks to collapsed sewer lines, Bynum & Sons Plumbing, Inc. is your full-service drain cleaning, plumbing, and septic company.
We provide solutions for clogged and backed up drains no matter what the cause is. Our team conducts thorough diagnostics to determine the root of the problem so that they can deal with it promptly and efficiently.
Some companies only handle drain clearing but backed up toilets and drains may be an indication of a problem with your sewer line or septic system.
Roots from trees and shrubs, for example, can also infiltrate sewer and septic lines and cause a serious clog.
These are only some of the reasons your drains can malfunction but you can be sure that we are equipped to deal with any of them!
Our professional plumbers have the equipment and experience necessary to identify the cause of the backup and to deal with any problems with your system.
We use modern equipment such as high-tech digital cameras to inspect the inside of your sewer and septic lines to find the source of the problem without unnecessary digging.
And to ensure top-quality and highly-efficient cleaning of your drains, we use high-pressure hydro-jetting equipment or professional grade plumbing snakes.
This allows us to quickly and thoroughly clean the drains, getting rid of any type of debris or material that was stuck inside.
For example, if you have tree roots obstructing your drains or any other type of debris, such as sludge, paper, and hair accumulated on the inside of your sewer drain lines, we will blast it away with our top-notch equipment and leave your drains in almost new condition.
If you, on the other hand, have collapsed sewer lines and backed-up septic systems, our plumbing professionals will explain your options and handle any necessary repairs.
Take a look at our top drain repair services below!
Drain repairs are one of our specialties! Repairing collapsed, broken or cracked drains is never a problem for the drain repair experts at Bynum & Sons Plumbing, Inc.
A clogged drain can be caused by something as simple as food, waste, soap, hair, and other debris caught in the trap below the sink or tub.
It can also be a more serious problem such as root infiltration into your drain lines, a collapsed or broken drain line or a septic system malfunction.
But no matter what the cause of the problem is, we will find it and fix it fast!
Just like with cleaning, we use top-of-the-line equipment for drain repair projects as well. With our high-tech digital cameras, we will inspect the drain lines, determine the exact location of the clog, broken drain line or any other type of malfunction.
Our skilled and experienced team of plumbers will then expertly and promptly repair it, leaving you with a properly functioning sewer and septic system.
We know that clogged drains can happen at the most inopportune times. That is why we provide 24-hour emergency drain cleaning and repair services.
Whenever a clogged drain emergency arises, you can count on us! Just call us and we will rush an experienced drain repair technician to your home or office.
We are here when you need us the most.
We are not one of those impersonal national plumbing franchises. We want to be the only plumber you will ever need to get your drains cleaned and all your plumbing issues resolved.
Our plumbers work hard to establish a long-term relationship with each of our customers. And by doing a great drain repair job for you today, we strive to earn your business in the future.
Unlike those national "chain" plumbers, when you call us at Bynum & Sons Plumbing, Inc., you know you will be getting a fast, efficient, and individualized service!
You will get an experienced professional plumber with the training, skills and modern equipment needed to quickly handle clogged drain repairs.
We service the following areas:
Bynum & Sons Plumbing, Inc.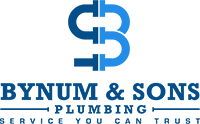 5
Stars – Based on
87
User Reviews