Grease Trap Cleaning & Pumping
At Bynum & Sons Plumbing, Inc., you can count on our plumbing professionals to comprehensively manage and maintain all your grease trap cleaning needs.
As a business owner, you know the importance of maintaining a clean and efficient kitchen. And grease trap cleaning is vital to keeping your kitchen odor-free and fully operational.
Bynum & Sons Plumbing, Inc. will make sure you're always fully operational!
Call us anytime to inspect your grease trap and to get it back into top shape with our grease trap pumping services!
Top Experts at Your Service
Let our waste removal experts meticulously clear out any grease, food or debris from your system.
Our dedicated team conducts full trap waste removal services and thoroughly cleans out your grease trap.
We will make sure to properly dispose of the waste and always help you avoid unforeseen and costly plumbing buildups.
In addition to that, at Bynum & Sons Plumbing, Inc., we keep accurate records and documentation of grease trap cleaning for your business, helping you maintain your health department guidelines.
We will work hand-in-hand with you to ensure your kitchen is safe and efficient. We can also help you with any commercial septic tank pumping you need at your business or commercial property.
Our Grease Trap Pumping Services
At Bynum & Sons Plumbing, Inc., we know that a fully operational kitchen is the lifeline of your business.
That is why you can count on our expert team for professional grease trap pumping to be at your beck and call. Whenever you are experiencing any issues, we will come promptly to take care of them.
Don't allow problems to build up over time but schedule regular grease trap pumping with Bynum & Sons Plumbing, Inc..
Serving you well and properly maintaining your commercial kitchens are our top priorities!
We can set up a grease trap pumping schedule that will keep your system clean and problem-free. We will work around your schedule and make sure not to disrupt your day-to-day operations.
You can also call us with questions about the municipal codes in your area regarding the disposal practices of unused grease. We are always happy to help in any way!
Restaurant Grease Removal
If you're looking for a reliable and affordable service to handle the restaurant grease removal for your business, call Bynum & Sons Plumbing, Inc. today!
Our plumbing professionals will first perform a full inspection of your lines and interceptor. We will then clean and scrape the interior walls, baffles, and drainage lines to remove all grease build-up and grease accumulation.
Our team will conduct full grease trap waste removal (including grease, water, and solids) and we offer ongoing support and maintenance that will keep your kitchen and business running smoothly and problem-free.
Lilburn Grease Trap Cleaning
Keep your kitchen fully functional and operational with our Lilburn grease trap cleaning and pumping services!
With our full service and detailed inspections, your commercial property in Lilburn will be in top shape. We will remove all types of waste that has accumulated in your grease trap and keep your kitchen odor and problem-free.
Duluth Grease Trap Cleaning
If your kitchen in Duluth GA has a lot of accumulated grease that is causing malfunctions and bad odors, don't hesitate to call your top grease trap pumping team!
Our dedicated grease cleaning professionals in Duluth will conduct a full grease trap waste removal, making sure your kitchen is back in shape and fully operational.
Suwanee Grease Trap Cleaning
With our grease trap cleaning and pumping services in Suwanee GA, your commercial kitchen will be in the best possible hands!
We will clean your Suwanee grease trap thoroughly and provide you with ongoing maintenance services as well. We will always work when it suits you best and make sure you are completely satisfied with the end result.
Our experienced plumbing professionals will make sure to thoroughly clean out your grease trap to the point of getting rid of all foul odors coming from your kitchen.
 We will ensure that it doesn't spread into the other parts of your restaurant and cause further problems with your guests. Scheduling regular Suwanee GA grease trap cleaning is important for your kitchen to remain fully functional but also to maintain a healthy work environment.
Old grease can become harmful and cause your crew to fall sick. But Bynum & Sons Plumbing is here to make sure that doesn't happen. We are here to help with all of your Suwanee GA grease trap cleaning needs and ensure your trap doesn't become a hazard.
 A well maintained and clean grease trap is one of the most important factors in this process that will ensure all of your kitchen operations continue to run smoothly and with no unwelcome interruptions.
An average homeowner doesn't understand all septic terms because they don't have to. It's easier to call someone and let them do their thing. But ignorance is dangerous. You don't have to absorb every bit
Bynum & Sons Plumbing, Inc.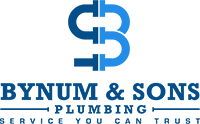 5
Stars – Based on
87
User Reviews