Pumping out your septic tank gets rid of the solid sludge that accumulates at the bottom of the tank and the grease that accumulates as scum floating near the top.
The removal of septic waste by pumping it out of the septic tank is a critical step and an important part of your septic tank maintenance.
Pumping out your septic tank when needed will extend the life of the septic field.
Bynum & Sons Plumbing, Inc. is your top local septic tank pumping service and we will make sure to keep your system running perfectly. We are at your service – septic tank pumping!
How often should you pump out your septic tank and what is septic tank pumping cost?
This depends on a number of factors such as the size of your tank, the size of your family and how much of your wastewater is solid waste.
The number of people dumping wastewater down the drain makes a big difference in how often the tank needs pumping. So does a garbage disposal.
A family with a garbage disposal typically dumps up to 50% more solid wastes down the drain and therefore needs to pump the septic tank twice as often.
In any septic tank, some of the waste solids consist of sand, grit, bits of plastic, and other non-organic materials. Since no enzyme or bacteria can digest these wastes, they must be physically pumped out of the septic tank periodically.
To determine if the septic tank is in need of being pumped out, you must measure the tank scum and thickness.
This is not a typical job for a homeowner and can even be dangerous. Therefore, it should be left up to a professional.
This is where our skilled and experienced team comes in! Once we have conducted the measurements, we will also conduct a thorough camera inspection of your septic tank as a part of our full-service package.
The professionals at Bynum & Sons Plumbing, Inc. have been cleaning and maintaining septic tanks ever since 1997 and there is no type of septic tank pumping job that we cannot do!
We are a family-owned business and are fully licensed and insured. We live and work in and around Atlanta and we care about our customers. Their satisfaction is always our number one priority!
We aim to be at their disposal at all times, which is why we also offer 24-hour and emergency septic tank pumping services!
24-Hour Septic Tank Pumping
Does your septic tank need to be pumped today – septic tank pumping?
If you are having a backup or are concerned your tank is about to overflow, Bynum & Sons Plumbing, Inc. can take care of your septic tank pumping problem immediately!
We offer 24-hour septic tank pumping service in the greater Atlanta and surrounding North Georgia area.
Sometimes, regular business hours are not the best time to have your septic tank pumped. We understand that at Bynum & Sons Plumbing, Inc..
Many of our customers prefer to have their septic tanks pumped later in the evening or early in the morning, especially businesses.
Our 24-hour septic tank pumping service works around your schedule, not the other way around.
You can plan for many septic service, especially if you schedule routine inspections for your septic tank.
However, excessive use, equipment breakdowns, and other factors can require immediate professional septic service.
Our team is ready to serve our neighbors when they need us the most with septic tank pumping and repair at any time of the day or night.
No time is a good time for a septic emergency but whenever one happens, we are at your beck and call!
Unfortunately, your septic can decide to back up or fail after normal business hours. Luckily, when the unthinkable happens, you have someone you can call to fix your septic problem right away.
Our team at Bynum & Sons Plumbing, Inc. is on standby 24/7 for septic emergencies. Whether you need your tank pumped or have a blockage in a sewer line, we are only a call away!
No matter if it is 9 p.m. or daybreak, you can call us whenever you're in need. We will arrive promptly to mitigate your septic issue and ensure it is resolved quickly and correctly – septic cleaning.
Bynum & Sons Plumbing, Inc.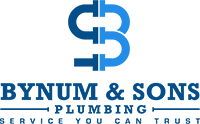 5
Stars – Based on
87
User Reviews