If you are a home or business owner with a septic system, you should know that healthy septic tanks require pumping. Bynum & Sons Plumbing, Inc. provides complete septic services, including septic tank pumping, to residents and businesses in the Berkeley Lake area.
Using camera technology, our skilled technicians can accurately measure the thickness of your septic tank's wastewater. We will look for high sludge levels, scum buildup, and blocking of the inlet or outlet. Based on the condition of your tank, we may recommend a septic tank pumping. This is a vital step to ensure the longevity of your septic system.
As a family owned company, we are committed to providing courteous, dependable services that will result in healthy septic systems. If you are in the Berkeley Lake area and have concerns about your septic system, call Bynum & Sons Plumbing, Inc. Estimates are free!
When it comes to your septic work, you absolutely need a professional to handle your concerns in a safe and responsible way. Bynum & Sons Plumbing, Inc. proudly provides Berkeley Lake residents and businesses with complete septic system cleaning services. Our licensed technicians can remove septic waste in an environmentally friendly way, and help you establish a regular schedule for septic system cleaning.
As a customer, you should know that the decisions you make regarding your septic system will have an impact on the ground water as well as any economic plans you have for your home or business. That's why it's important to choose a reliable and trustworthy septic expert with your system. Family owned since 1997, Bynum & Sons Plumbing, Inc. is fully equipped to handle any septic concerns that you may have, and to maintain the integrity of your system.
If you are a potential buyer of a home or commercial property, you should insist that the septic system be inspected. Not only will this enhance the value of the property, it will help avoid any liability issues that may result from a faulty system. Bynum & Sons Plumbing, Inc. thoroughly provides septic inspections to home and business owners in the Berkeley Lake area. During an inspection, our licensed technicians will check for evidence of erosion, previous overflow, sewage levels, and potential leakage.
As licensed technicians, you can trust that we are aware of certain septic system dangers, as waste can pose serious health hazards. If you are in the Berkeley Lake area and are looking for a septic expert that you can trust with your inspection, contact our office today.
Bynum & Sons Plumbing, Inc.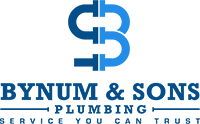 5
Stars – Based on
87
User Reviews
An average homeowner doesn't understand all septic terms because they don't have to. It's easier to call someone and let them do their thing. But ignorance is dangerous. You don't have to absorb every bit