Are you looking for a trusted septic professional to service your home or business in Cumming? Choose Bynum & Sons Plumbing, Inc. We are a family-owned company known for our honest and dependable approach on a full range of septic services. We help homeowners and business owners extend the life of their septic tank and avoid costly and disruptive repairs. In doing so, we provide excellence when it comes to septic tank pumping.
In general, a septic tank needs to be pumped every 3 to 5 years. The maintenance schedule for your specific system depends on factors such as the size of your tank, number of household occupants and the amount of solids in your wastewater. You can trust that our team of licensed technicians is knowledgeable and skilled when it comes to pumping the sludge and scum out of your septic tank.
Your septic tank has remarkable capabilities. However, it needs proper cleaning and maintenance to operate smoothly. A septic system cleaning can eliminate the solid wastes and floating scum that cannot successfully exit to your drainfield. A routine septic cleaning not only prevents groundwater contamination, but it can also save your Cumming home or business from a costly septic backup.
It can be difficult and nearly impossible for the average homeowner to assess the health of their septic tank. In such cases, a professional inspection from Bynum & Sons Plumbing, Inc. can help you better understand what your septic tank needs. We use high-tech camera technology to safely and accurately evaluate your septic system. Our technicians can check for leaks, backflow, corrosion and sludge. If a cleaning or repair is needed, you can trust that we will offer an affordable rate and prompt service for your convenience.
Ready to schedule your septic inspection or septic tank pumping in Cumming? Contact Bynum & Sons Plumbing, Inc. today to schedule service. Our business is set apart by our commitment to honest rates and environmentally-safe practices. We are happy to offer a free estimate upon request
Bynum & Sons Plumbing, Inc.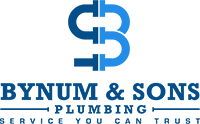 5
Stars – Based on
87
User Reviews
An average homeowner doesn't understand all septic terms because they don't have to. It's easier to call someone and let them do their thing. But ignorance is dangerous. You don't have to absorb every bit