Do you need a trusted and affordable professional to handle your septic tank pumping? Bynum & Sons Plumbing, Inc. is proud to have earned the respect and business of countless customers in the Dacula area. We are a family owned company with a commitment to deliver honest service and specialized expertise when it comes to your septic tank. We handle everything from septic installation and repairs to septic pumping and inspections. Whether your tank needs routine maintenance or emergency repairs, our technicians will respond in the timely, professional manner you deserve.
If it has been more than 5 years since your septic tank was last pumped, call us today. Neglecting to have your septic tank cleaned every 3 to 5 years can results in costly damage and potential health risks to your family. We service septic tanks of all sizes for both homes and business in the Dacula community.
Emergency Septic Tank Cleaning
Over time, your septic tank inevitably accumulates solid sludge and scum from wastewater. If not professionally pumped out, this buildup can result in embarrassing backflow or a complete septic system failure. Our technicians are fully licensed and insured to handle both routine septic pumping as well as emergency septic cleaning when needed. We want your plumbing system to run as smoothly and efficiently as possible at all times.
You can count on Bynum & Sons Plumbing, Inc. to use the latest and safest methods when it comes to cleaning, inspecting or repairing your septic tank. We use camera technology to evaluate the health of your system and measure levels of solid waste accumulation in your drain lines or tank.
Prior to purchasing a new home, you will need to arrange a professional septic inspection. We are proud to offer this service at a competitive rate. We provide certified letters upon completion and we are happy to work with your real estate closing attorney for payment from escrow when needed. A septic inspection can detect leaks, structural damage and measure scum levels in your tank.
Contact Bynum & Sons Plumbing, Inc. today for experts you can trust. We offer free estimates and affordable pricing. Our septic pumping appointments are always carried out in a timely manner with minimal disruption to your home or business environment.
Bynum & Sons Plumbing, Inc.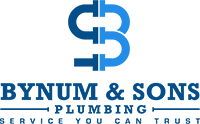 5
Stars – Based on
87
User Reviews
An average homeowner doesn't understand all septic terms because they don't have to. It's easier to call someone and let them do their thing. But ignorance is dangerous. You don't have to absorb every bit