Duluth Septic Tank Installation
If you are looking for a trusted company to install your new septic tank in Duluth, turn to Bynum & Sons Plumbing, Inc.. We are a family-owned business with a commitment to provide top quality septic services at an affordable rate. When it comes to septic tank installation, you can trust our technicians to do it right the first time. We carry deep knowledge of all types of septic tanks, including the latest and most proven models. Not only can we install your septic tank, but we can also provide ongoing maintenance and repairs to ensure it operates smoothly for years to come. Call Bynum & Sons Plumbing, Inc. to get the most long-term return on your septic investment in Duluth.
Your septic system is one of the most important operations in your home. When properly balanced and maintained, it provides a natural and streamlined process for removing wastewater from your home. Unfortunately, when septic tank pumping is neglected or when the system is not properly cared for, disruptive problems can occur. In such cases, turn to Bynum & Sons Plumbing, Inc. for prompt and effective septic system repairs.
We have a team of licensed and insured technicians who use high-tech camera technology to investigate your septic problems. This allows us to detect leaks and blockages and measure solid waste accumulation in your tank without disrupting your landscape. Once the area of concern is diagnosed, we will provide an upfront estimate of the repairs and fix your septic tank in the timely manner you deserve. You can expect our Bynum & Sons Plumbing, Inc. employees to be on time, courteous and honest at every job.
To learn more about our full menu of septic services in Duluth, please contact Bynum & Sons Plumbing, Inc. today. We offer competitive prices on new installs and inspections as well as septic pumping and repairs.
Bynum & Sons Plumbing, Inc.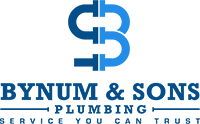 5
Stars – Based on
87
User Reviews
An average homeowner doesn't understand all septic terms because they don't have to. It's easier to call someone and let them do their thing. But ignorance is dangerous. You don't have to absorb every bit