Lawrenceville Septic Tank Installation
At Bynum & Sons Plumbing, Inc., we are equipped to handle all of your septic service needs, ranging from installation and pumping to repairs, inspection and remediation. While we are known for our excellence in protecting and extending the life of septic systems in Lawrenceville, our technicians also bring unrivaled skill in installing new septic tanks. We are a family owned business who is committed to top quality workmanship and complete customer satisfaction. In doing so, we offer a team of fully licensed and insured employees who go out of their way to provide honest, courteous and prompt septic services to your home or business. When it comes to septic tank installations, you can trust that our Septic Service Lawrenceville professionals will provide an honest estimate upfront and perform a flawless installation that protects you from future problems.
How long has it been since your septic tank was pumped? If it has been longer than 5 years, you may begin to see signs of septic system failure. Septic symptoms such as slow running toilets, foul odors in your home or standing water in your drain field are all indications that your septic system needs to repaired. Neglecting to follow through on your septic repairs could result in embarrassing backups in your home or business and costly damage to your property. At Bynum & Sons Plumbing, Inc., we bring the knowledge and skillset it takes to perform your septic repairs affordably and effectively.
Our technicians use advanced diagnostic equipment such as camera technology to investigate your pipes and measure levels of waste accumulation in your tank. If scum and sludge are at abnormally high levels, a septic tank pumping can often restore the health of your system. Regardless of whether you have waste buildup, a leakage or a blockage, you can trust us to provide thorough repairs with respect to your safety and budget. We always value the importance of minimizing disruption to your home or business as we fix your septic tank.
Remember that a well-maintained septic tank is generally hassle-free and a very effective means for naturally processing wastewater on site. However, the moment you suspect a problem, it is crucial that you call our professionals for help. To learn more about our menu of septic tank repairs or to get an estimate on a new septic tank installation in Lawrenceville, please contact us today.
Bynum & Sons Plumbing, Inc.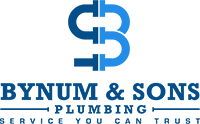 5
Stars – Based on
87
User Reviews
An average homeowner doesn't understand all septic terms because they don't have to. It's easier to call someone and let