Lawrenceville residents who own a home or business that has a septic system should find a reputable septic tank pumping company to handle their routine Lawrenceville septic tank pumping. Maintaining your septic system by having it pumped and cleaned every 2 to 5 years is an integral part of avoiding costly septic backups and septic system emergencies.
Bynum & Sons Plumbing, Inc., is a reliable and affordable full service plumbing and septic company and we are ready to serve your needs. Bynum & Sons Plumbing, Inc. was established in 1997 on the founding principles of providing exceptional plumbing and septic service to every customer. Our family owned and operated business is fully licensed and insured, and we are the company to call for prompt septic tank pumping service in Lawrenceville.
A septic system can only function properly if pumped, emptied and cleaned every number of years. If your home has a septic system and it has been a while since you have had your system pumped, call Bynum & Sons Plumbing, Inc. today for a free estimate. We are septic specialists; our trained and certified septic technicians can measure your scum levels, perform camera inspections and pump and clean your septic tank.
There are a number of factors that help determine how often your septic tank needs pumping. The size of your septic tank is important, as is the number of people using and dumping wastewater in your home or business. Please note that if your family uses a garbage disposal, your household is dumping up to 50% more solid waste. Homes with garbage disposals are likely to need their septic system pumped twice as often. If you are unsure if your septic system is getting full, call Bynum & Sons Plumbing, Inc. today for a septic tank inspection and avoid an unfortunate septic emergency.
The experts at Bynum & Sons Plumbing, Inc. are here to serve your septic system needs. If you are experiencing a septic system emergency and need your septic system pumped, contact our Septic Service Lawrenceville Professionals today for competitive and affordably priced emergency septic services.
Bynum & Sons Plumbing, Inc.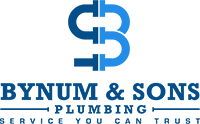 5
Stars – Based on
87
User Reviews
An average homeowner doesn't understand all septic terms because they don't have to. It's easier to call someone and let them do their thing. But ignorance is dangerous. You don't have to absorb every bit