Lilburn Septic Tank Installation
If you want your septic tank installed with the highest level of expertise, choose Bynum & Sons Plumbing, Inc.. We proudly serve the Lilburn area with excellence in septic installation, inspections, pumping and repairs. Whatever your septic system needs, we are confident we can handle it. Our family-owned business brings years of experience in septic services. We understand how to properly install the intricate components of a septic tank so that it functions smoothly and efficiently for years to come. To ensure your septic tank retains healthy operation, we recommend you schedule a septic tank pumping and cleaning every 3 to 5 years.
At Bynum & Sons Plumbing, Inc., we know what is at stake when your septic system is acting up. Backflow and leaks can cause embarrassing and costly disruptions in your home or business. If you have the following signs of septic system failure, please call us for repairs as soon as possible:
Slow running toilets
Foul odor in your home or business
Puddles or standing water on your drainfield
These are symptoms of a malfunctioning septic system, which is often due to high levels of scum and sludge in your tank. A septic pumping and cleaning can typically restore a healthy balance and flow to your septic system in such cases. However, you may need repairs due to a blockage or leak in your pipes. Our technicians use camera technology to diagnose these issues so that it can be fixed conservatively and accurately.
Remember that neglecting septic system problems could result in a backup in your home or dangerous groundwater contamination. At Bynum & Sons Plumbing, Inc., we take on the responsibility of keeping our customers in a safe environment when it comes to their septic tank. We also look for opportunities to educate customers on ways to prevent septic tank problems.
To schedule a septic tank installation or septic repairs in Lilburn, please contact us today. We look forward to caring for your septic system and helping you enjoy hassle-free plumbing.
Bynum & Sons Plumbing, Inc.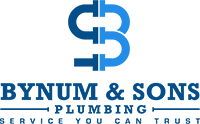 5
Stars – Based on
87
User Reviews
An average homeowner doesn't understand all septic terms because they don't have to. It's easier to call someone and let them do their thing. But ignorance is dangerous. You don't have to absorb every bit