How long has it been since your septic tank was pumped? Do you even know how often it needs to be cleaned before you will suffer consequences? Let Bynum & Sons Plumbing, Inc. help you. We are a family owned business that specializes in residential and commercial septic tank maintenance. You can expect on-time, courteous service and honest, affordable pricing every time you call on us.
Your septic tank accumulates solid sludge and scum from wastewater over time. This is inevitable regardless of how much you use your system or the size of your tank. A routine septic tank pumping is required to keep your septic system at peak health and to prevent a costly, embarrassing septic backup in your home or business. We can help you determine your specific pumping needs, which will depend on the size of your tank, number of occupants using your system and how much of your wastewater is solid waste.
Emergency Septic Tank Cleaning
Bynum & Sons Plumbing, Inc. is known for helping customers extend the lifetime of their plumbing system. We can prevent costly repairs with our excellence in septic cleaning. We utilize the latest, most advanced equipment and our technicians are well trained to nurse your septic tank back to optimal health and function. You can trust that when you call on us, we show up on time and extend respectful service with minimal disruption to your home or business.
Consider scheduling an emergency septic tank cleaning if you notice the following signs:
Foul odor coming from your drains inside your home
Standing water in your yard near the drain field
Don't wait until solid waste levels compromise your family's safety, call Bynum & Sons Plumbing, Inc. today.
Are you ready to purchase a new home? Let us handle your septic system inspection. We provide affordable and streamlined inspections for all sizes and types of septic tanks. We check for structural damage and ensure that every aspect of your septic system is performing properly. This includes evaluating the sidewalls and bottom of the tank, drain field area, inlet and outlet baffle and lid. If we detect any problems, you can trust that we will handle them promptly and affordably so that you can move on with your real estate closing. If needed, Bynum & Sons Plumbing, Inc. can supply a certified inspection letter and report.
Contact our experts today to schedule your septic tank service. We proudly offer free estimates and honest, flat rate pricing on all services.
Bynum & Sons Plumbing, Inc.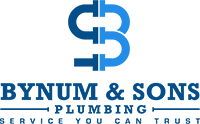 5
Stars – Based on
87
User Reviews
An average homeowner doesn't understand all septic terms because they don't have to. It's easier to call someone and let them do their thing. But ignorance is dangerous. You don't have to absorb every bit