Bynum & Sons Plumbing, Inc. is your most trusted source for septic tank pumping and maintenance. We are a family owned and operated business who has served the Tucker community for nearly 20 years. Our affordable pricing and respectful customer service is what sets us a part from our competitors. We have technicians that are fully licensed and insured with specialized training in septic system operation.
Your septic tank was designed to give you many years of hassle-free plumbing. However, it must be properly maintained. A septic tank pumping can extend the life of your system and prevent embarrassing backups or other damage. Keep your family safe and schedule your septic tank pumping in Tucker today.
Emergency Septic Tank Cleaning
Are you giving your septic system the attention it needs? If it has been over 5 years since your septic tank was professionally cleaned, you are at a high risk for costly and disruptive septic failure. Depending on the size of your tank, the number of occupants in your household and the amount of solids in your wastewater, your septic tank needs to be pumped every 3 to 5 years on average. The accumulation of non-organic materials such as sand, grit, grease and bits of plastic will build up over time and threaten the smooth function of your system. Only a professional septic tank cleaning can restore the health of your tank.
Whether you have a septic emergency or simply want to schedule a routine septic pumping, you can rely on our Bynum & Sons Plumbing, Inc. experts. We realize the importance of handling your plumbing needs in a timely manner, and we value our customers by offering honest and fair pricing. You can trust that our technicians are well trained to perform all types of septic services and we use the latest, most innovative equipment to get the job done with minimal disruption to your home or business.
We provide top quality septic inspections for both residential and commercial clients. Whether you need an inspection for a real estate closing or just need the current health of your septic tank professionally evaluated, we are happy to help. Our technicians thoroughly inspect all aspects of your septic system, including tank walls, lid, drain field area, baffles and more. If a problem is detected, you can trust that we will give you an honest and fair estimate on repairs.
Contact us
 today to schedule your next service. We make it priority to satisfy our customers with superior service and competitive rates every time. For your convenience, we also offer financing options as well.
Bynum & Sons Plumbing, Inc.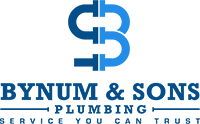 5
Stars – Based on
87
User Reviews
An average homeowner doesn't understand all septic terms because they don't have to. It's easier to call someone and let them do their thing. But ignorance is dangerous. You don't have to absorb every bit